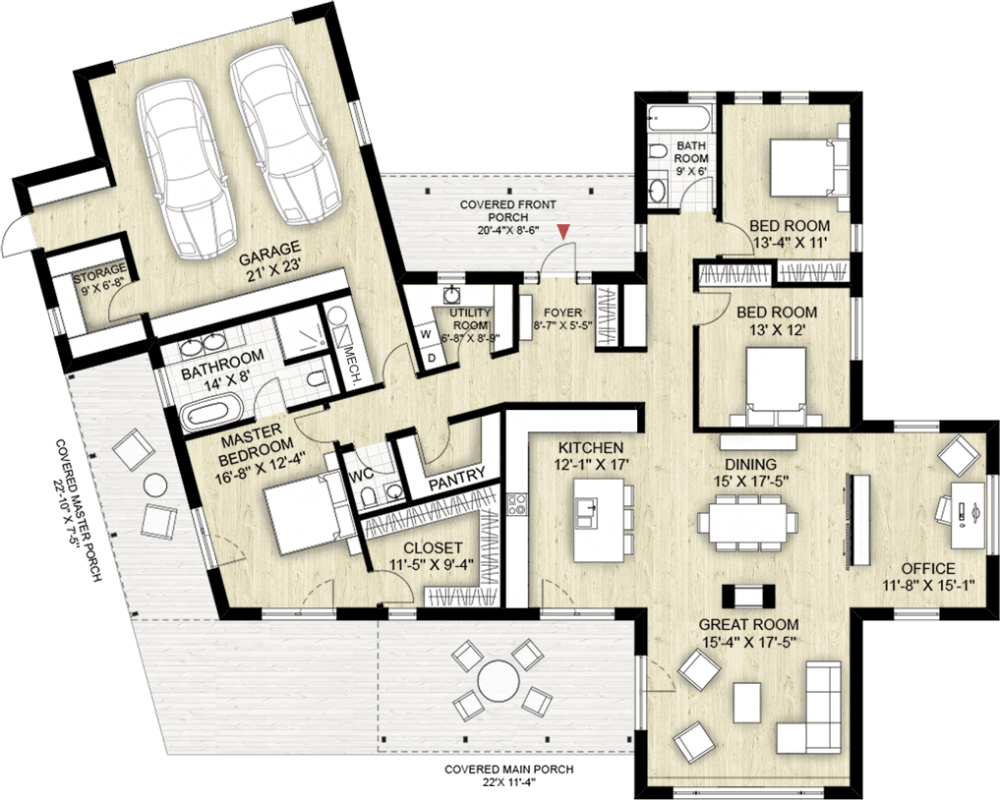 Plan
84'-4″ X 68′-2″
Dimensions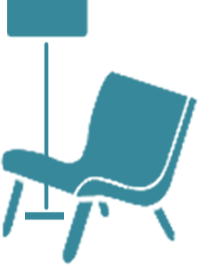 Open floor plan

Living area linked to the porch

Fireplace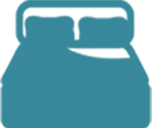 Master Bedroom separate from other bedrooms

Walk-in closet

Main floor master bedroom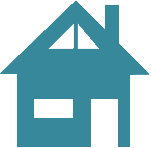 Home office

Walk-in pantry

Storage space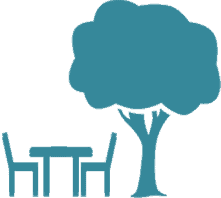 Covered front porch

Covered rear porch

Sundeck
MODIFY THIS PLAN
MODIFY HOUSE PLAN
1. Send your requirements
Describe floor plan modification requirements with additional features
2. Design process
Depending on your requirements design process could take 1-4 weeks.
3. Final design
After finalizing house design, the plan set drawings are produced in up to 1 week.
Customize this house plan the way you like
The modern cabin style house character is expressed by connected interior and exterior spaces. Open floor plan with high ceiling allows continuing daylight flow. Spacious kitchen is opened to the dining area and great room. The main fireplace is located in the center of living area which serves as a sculptural object. Master
bedroom is located separately from the rest of the bedrooms for more privacy and comfort. Master suite has its own walk-in closet, bathroom, and private master porch. Spacious garage with additional storage room is located at the end of the main house end. This end is slightly twisted from the main house shape which
opens up front yard and gives privacy for Master Bedroom area from the street. The focus on this house was to create an aesthetically well-designed house which at the same time would be sustainable and energy efficient with additional exterior wall insulation.
House Area: 2116 sq ft
Garage Area: 650 sq ft
Dimensions: 84′-4″ X 68′-2″
Height: 17′
Ceiling Height: 9′-15′
Roof Pitch: 0.7/12
External Wall Framing: 2"X6″
Diverse Cladding Options
House design is adaptable to many cladding options which could match your required color pallet.
Home Interior Design
House plan layout expresses open floor plan with connected main living spaces. The living room and kitchen area have a strong connection with the outdoor covered porch which extends inside house activities to outdoor living space. Bedrooms are allocated away from the living area to give more privacy and silence.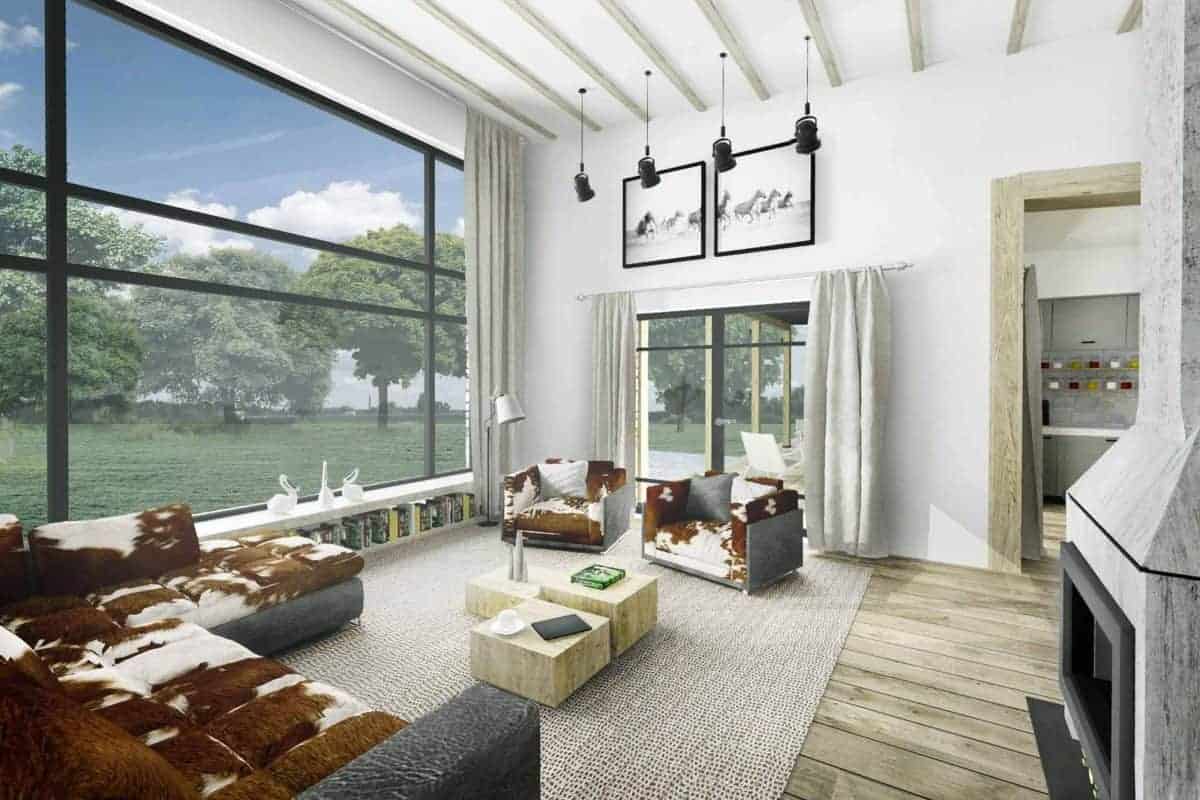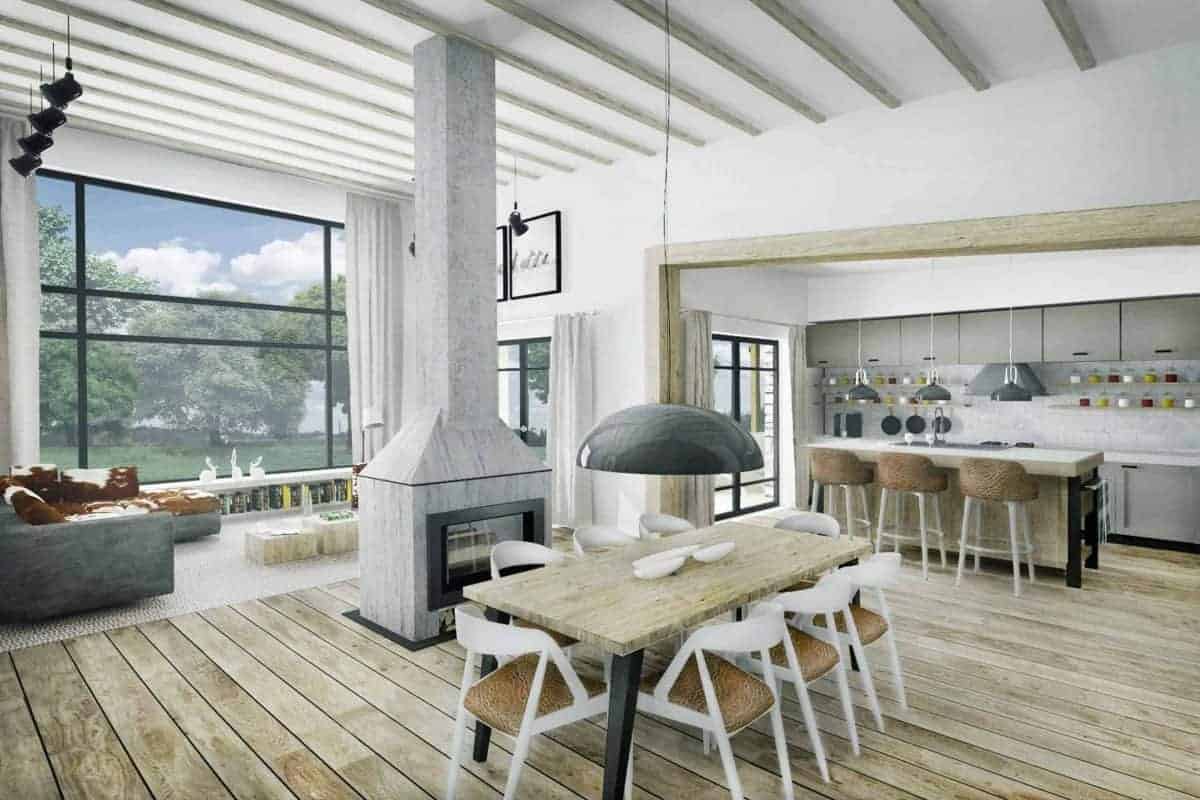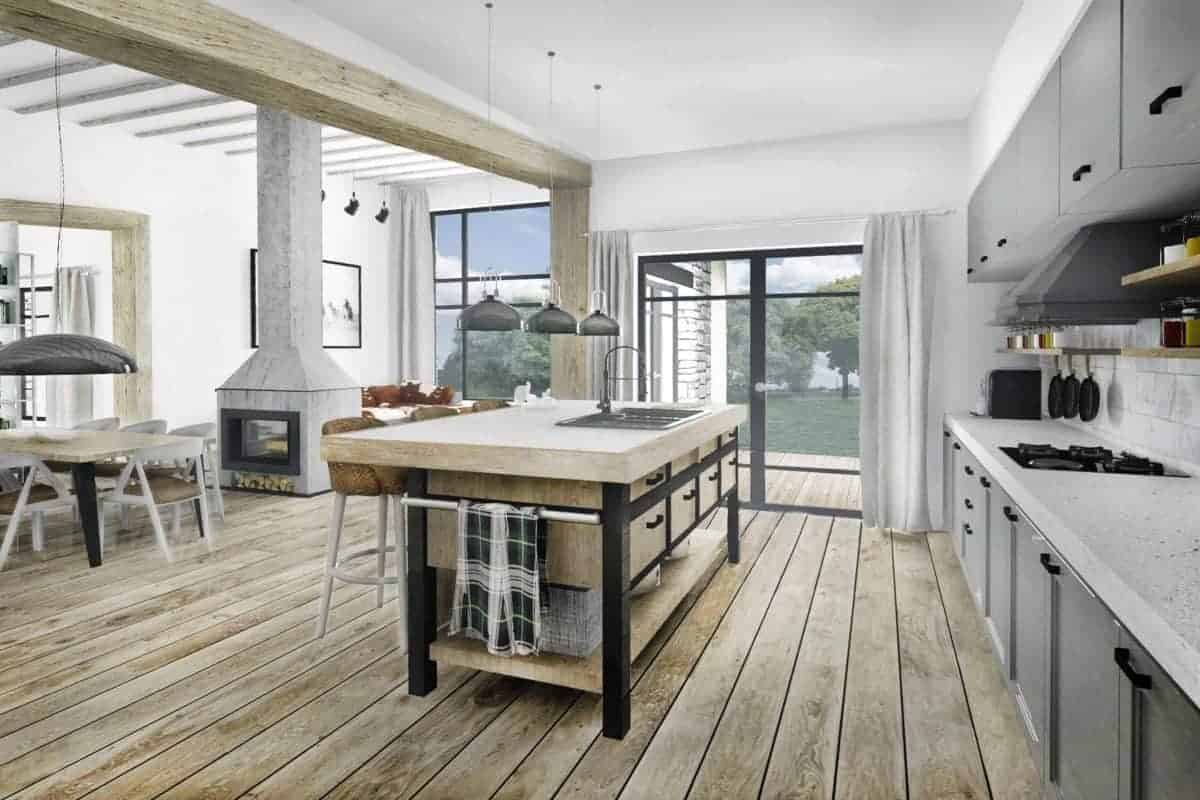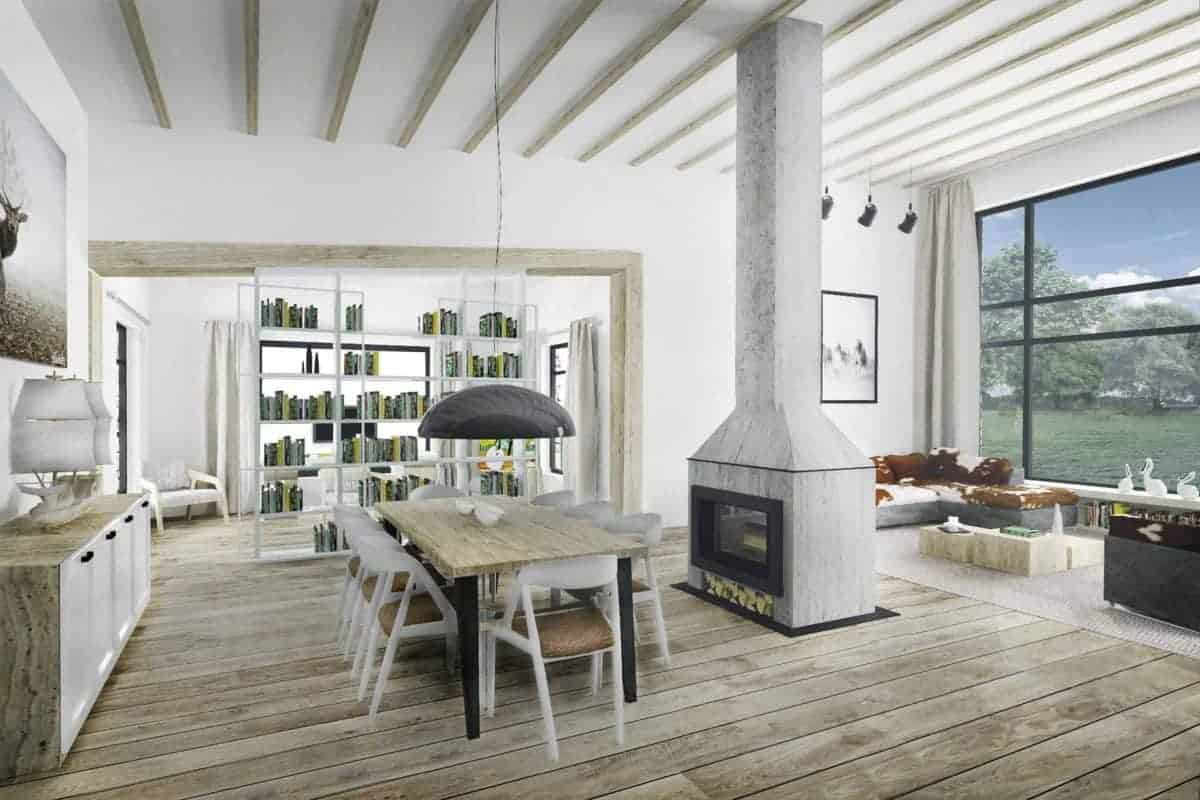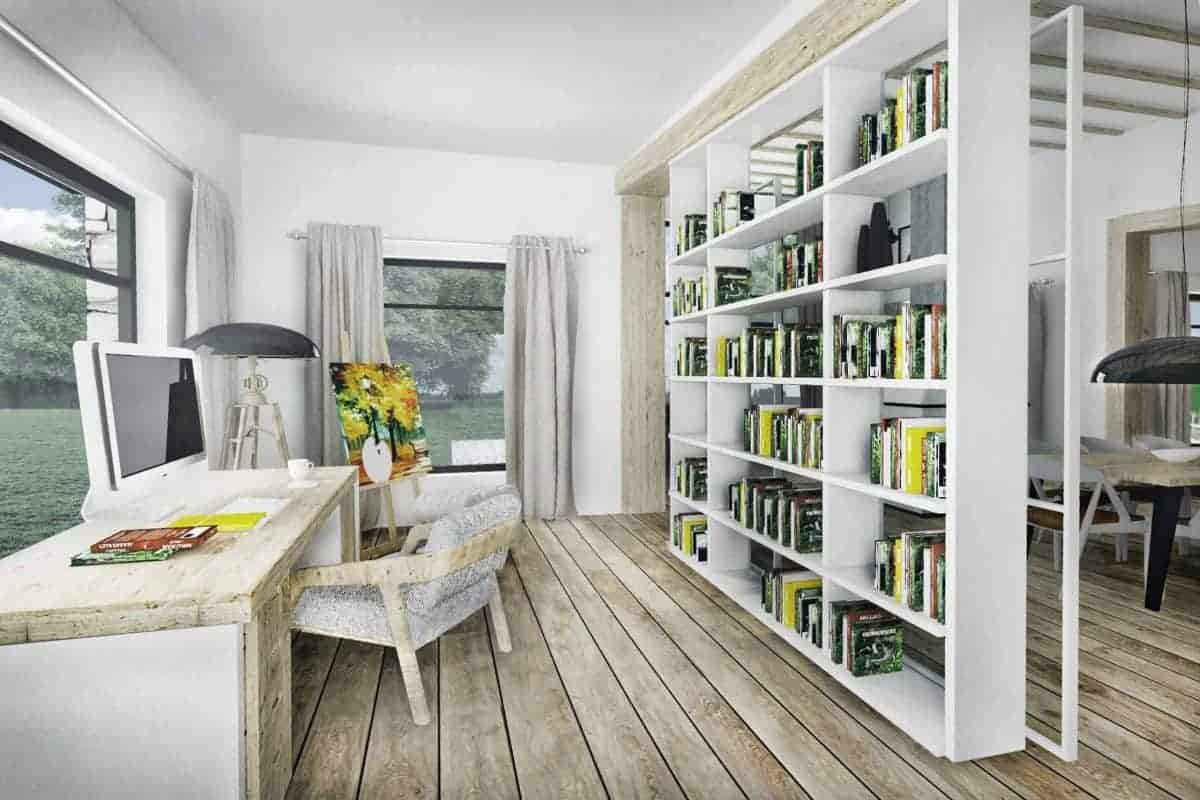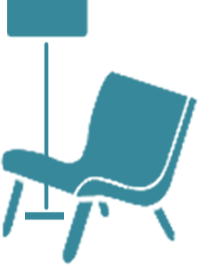 Comfortable
House is designed to make your everyday living comfortable and pleasant expressing living room, kitchen and bedroom designs.

Functional
Efficient home plan layout where every corner has a purpose. Compact house floor plan ensures less cost-effective construction.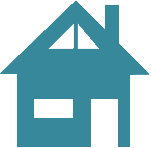 Well designed
Distinctive home design with clean lines, open floor plan, easily accessible and strong indoor connections to outdoor spaces.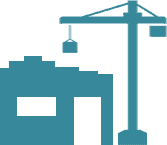 Simple to build
Simplified house form ensures easy and efficient house construction. House is designed to use simple construction technique and details.
View
Truoba Class 116
Average rating:
1 reviews
Nov 20, 2018
Beautiful, Stunning Design
My wife and I looked at house plans for about 18 months before finding "the one", (Truoba Class 116). We really like the basic design of the home and found it amenable to modifications, which allowed us to personalize it for our own needs/desires. A few of the things that we appreciate most about this plan:... The Great Room is dramatic, absolutely beautiful, great place to entertain, or just sit and read... The floor plan is very efficient, little-wasted space... One level, unlimited opportunities to individualizeAmong the modifications that we made:... Enlarged the office area and put in an outside door to an attached covered patio... Expanded the outside walls of each of the three Bedrooms... Put in a larger front door (42" instead of 36")... Removed the short wall between the front door and the kitchen and reconfigured kitchen... Reconfigured area behind kitchen (pantry, 1/2 BA, MBR closet area)... Added an enclosed "snore room" off the MBR (by expanding the outside wall about 7')... Increased the garage area by expanding the outside wall by about 7'... All our additions have increased our square footage to about 2700 (not incl. garage expansion)Challenges with the construction because of the plan's unique design and specs, we would encourage anyone building this home only use an experienced and highly competent general contractor to build it. Our contractor was brilliant in certain areas, such as plan modifications, but, unfortunately, handled other issues poorly, such as hiring and overseeing subcontractors and addressing issues in a timely matter. As a result, our construction process was very (unnecessarily) painful at times. Slab vs. Crawl SpaceWe chose a slab foundation instead of having a crawl space. We feel that this was a mistake. If we were doing it over again we would opt for the crawl space, which makes it much easier to address problems or change design (such as plumbing or lighting issues). Our exterior is all-steel with a board and batten design. The interior has been fun to decorate, including a 3' river rock wall in the Great Room. We live on a river full of trout located just outside a national park. Our Great Room window looks down the river, a beautiful setting for this house design. The plans have been ideal for us.